😷 Attending a showcase festival during the pandemic // The plague rave traffic light system
About this year's socially distanced Reeperbahn Festival and a clever Covid-19 security system for raves and concerts
🏟️ Attending a showcase festival during the pandemic: Reeperbahn Festival
Last Friday I had the pleasure of interviewing Andrew Foggin of DICE for the livestream of Reeperbahn Festival. On Thursday I hopped on a train from Berlin to Hamburg where the yearly showcase festival (Europe's biggest) has been taking place since 2006. The experience was a little bit surreal, but also had a comforting familiarity.
The conference
Most of the festival's conference program was in-studio and without an in-person audience. Suddenly, as a moderator or interviewer, there's a new skill to learn: you're essentially presenting to a camera rather than an audience. From what I gathered, it wasn't too daunting for most people, which I suppose is thanks in part due to how familiar video conferencing in general has become - especially during lockdown.
In the studio everyone was wearing masks at all times, except for whoever had to go on stage, who'd be allowed to take their masks off on stage. Surfaces were regularly disinfected.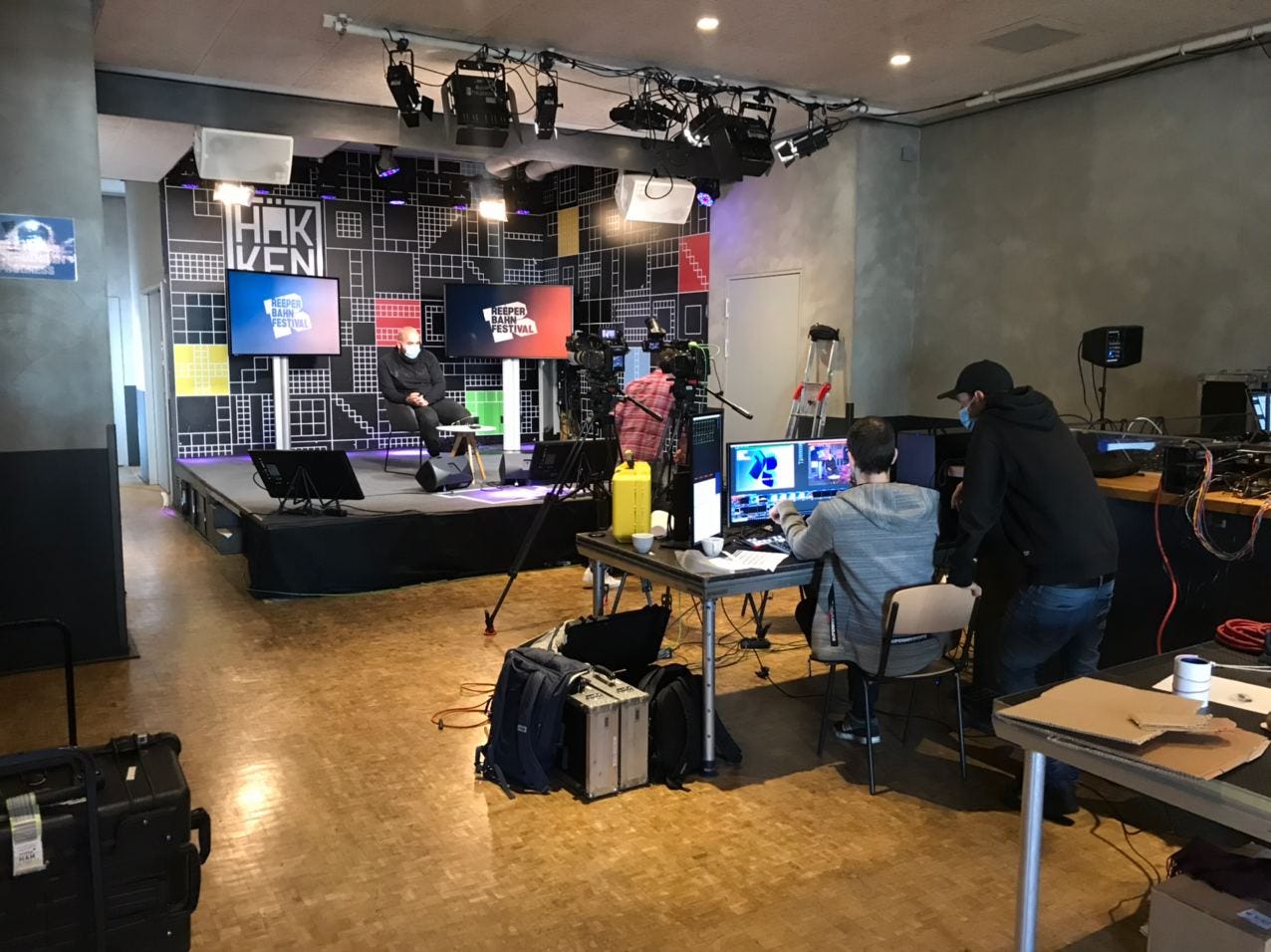 Most speakers were remote, so there were way less people to bump into in and around the speakers lounge - the conference's only communal physical space.
Upon picking up my speaker badge, I had to sign a contract which stated I would follow all of the safety protocol. I assume people buying tickets for the festival had to do something similar through a web form. The regulations were clearly communicated in German and English throughout the festival in many ways, including these posters: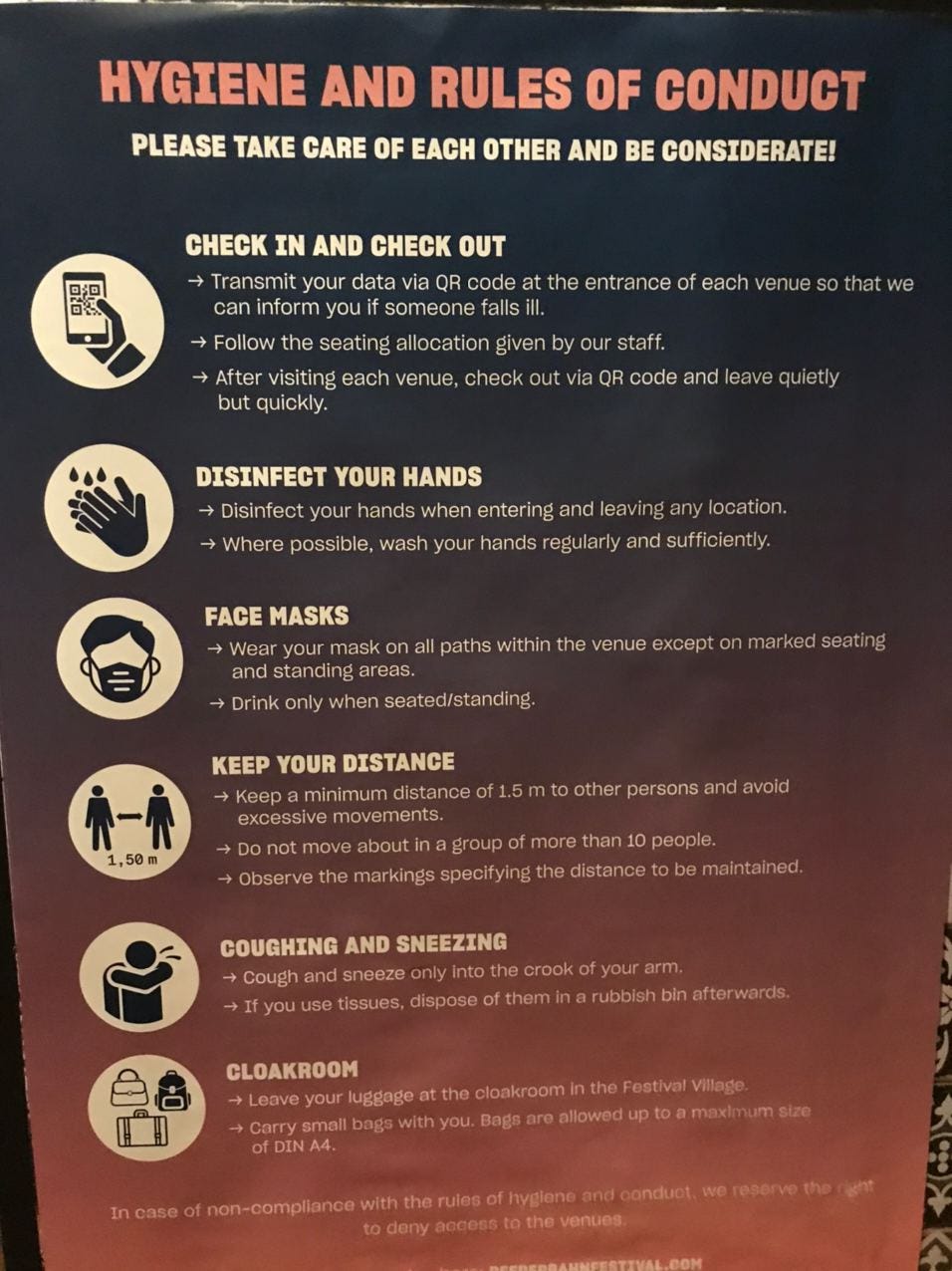 The networking
No networking mixers, no bumping into familiar faces every hour of the day, no text messages to go see certain bands (except for the one from Carlo Kiksen, with whom I run the Artist Lockdown Challenge, who recommended Eefje de Visser), no running from meeting to meeting.
I'm sure Reeperbahn Festival added networking possibilities to their online platform, but due to being in Hamburg in person, I missed most of such conference aspects, since they were online-only.
The festival
The event did have concerts and actually quite a lot of them, spread out over various stages and venues. They made a massive effort to make everything safe and the usual quip that socially distanced concerts are not financially sustainable felt really obvious. I have no idea about Reeperbahn Festival's financials, but I'd be surprised if they broke even on the festival part.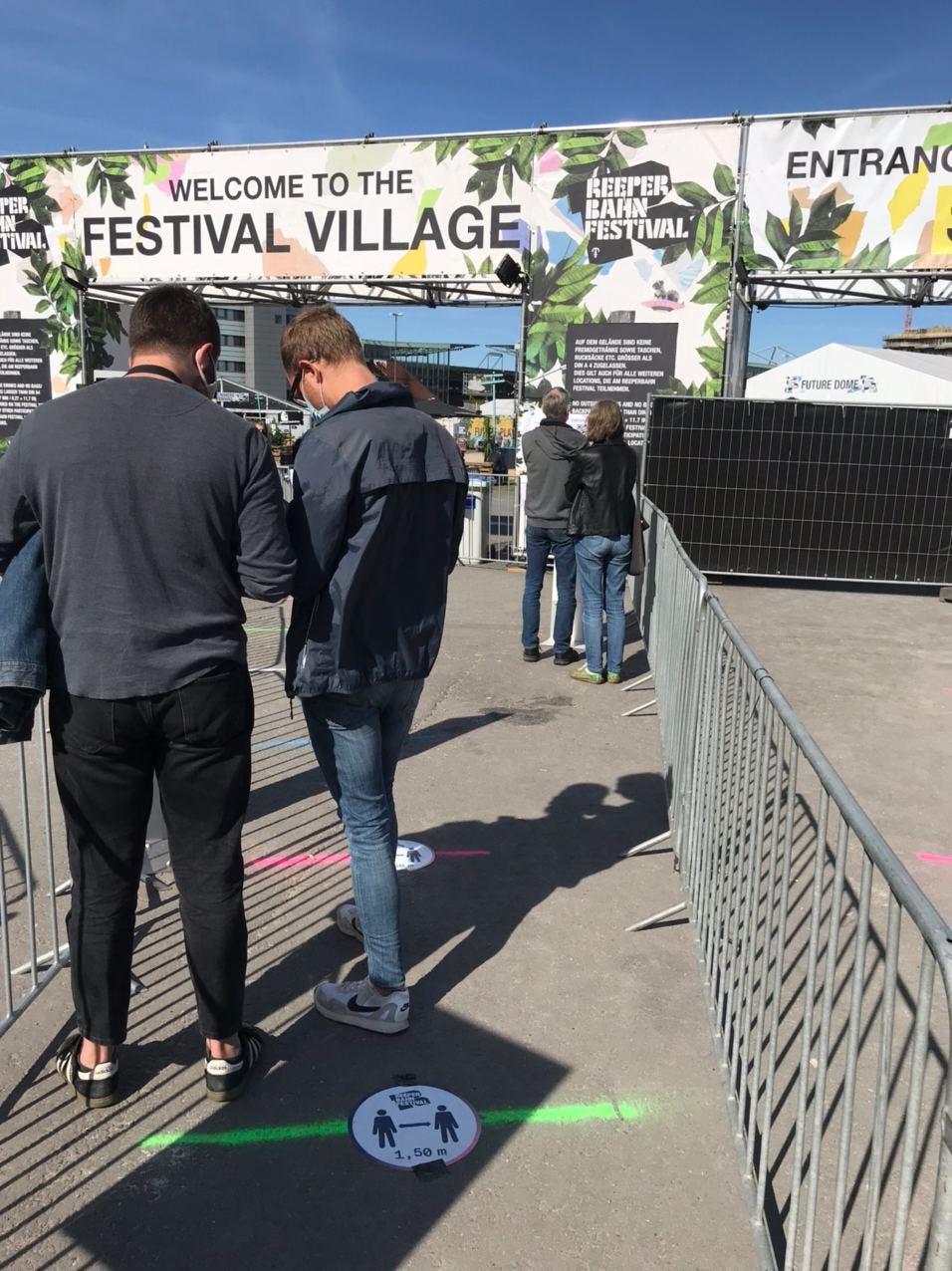 QR entrances
Each gig required you to scan a QR code at the door in order to enter. It would let the festival's systems know who's at the gig (for contact tracing). If you were leaving, you had to check out again, so that the festival could track event capacity. In both cases, you had to hold up your phone to a security person, so they could make sure you actually checked in.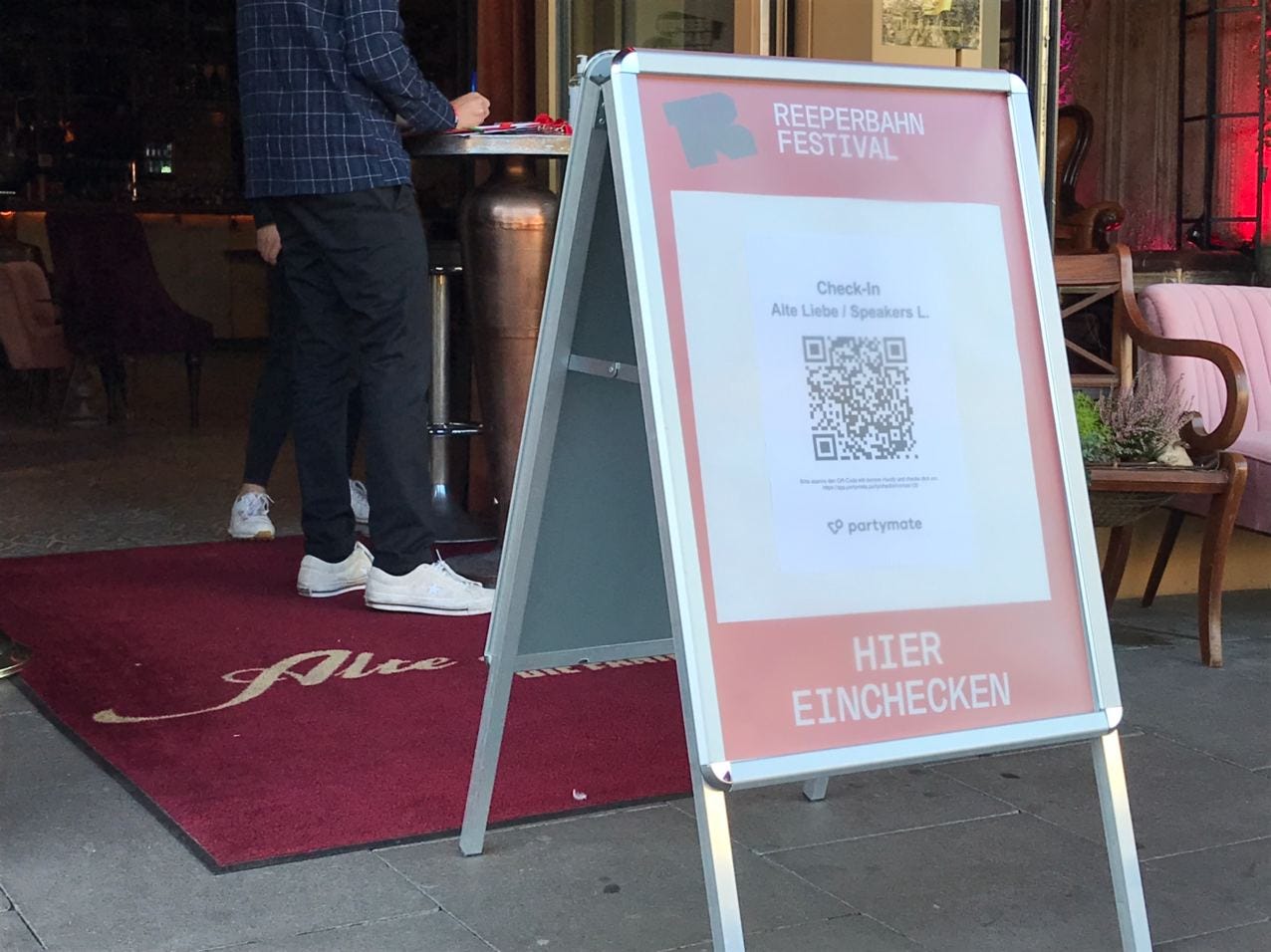 One of the QR codes used for checking in - in this case at the Speakers Lounge.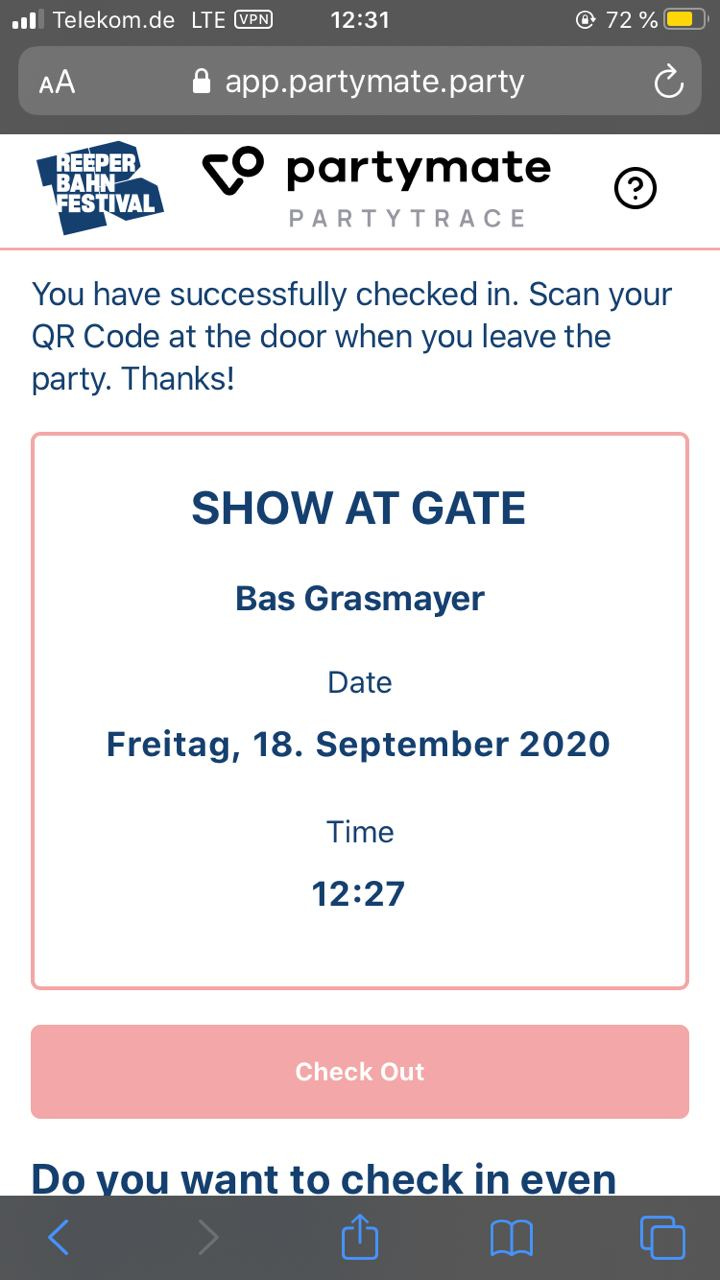 The info appearing on your screen, which you'd have to show to one of the security staff upon entrance.
Disinfect & distance
At some points, security actually told people to disinfect their hands upon entrance. As you proceeded to find yourself a spot, marked by spray painted boxes, chairs, or dots - all 1.5 meters apart - you had to wear your mask at all times. Only once you found yourself a spot were you allowed to take it off.
For some gigs it worked well, for others it feels a little bit awkward. It's a great set-up for people who are shorter and who normally struggle to see anything during concerts though. If you showed up with another person, you were allowed to stand in the same box.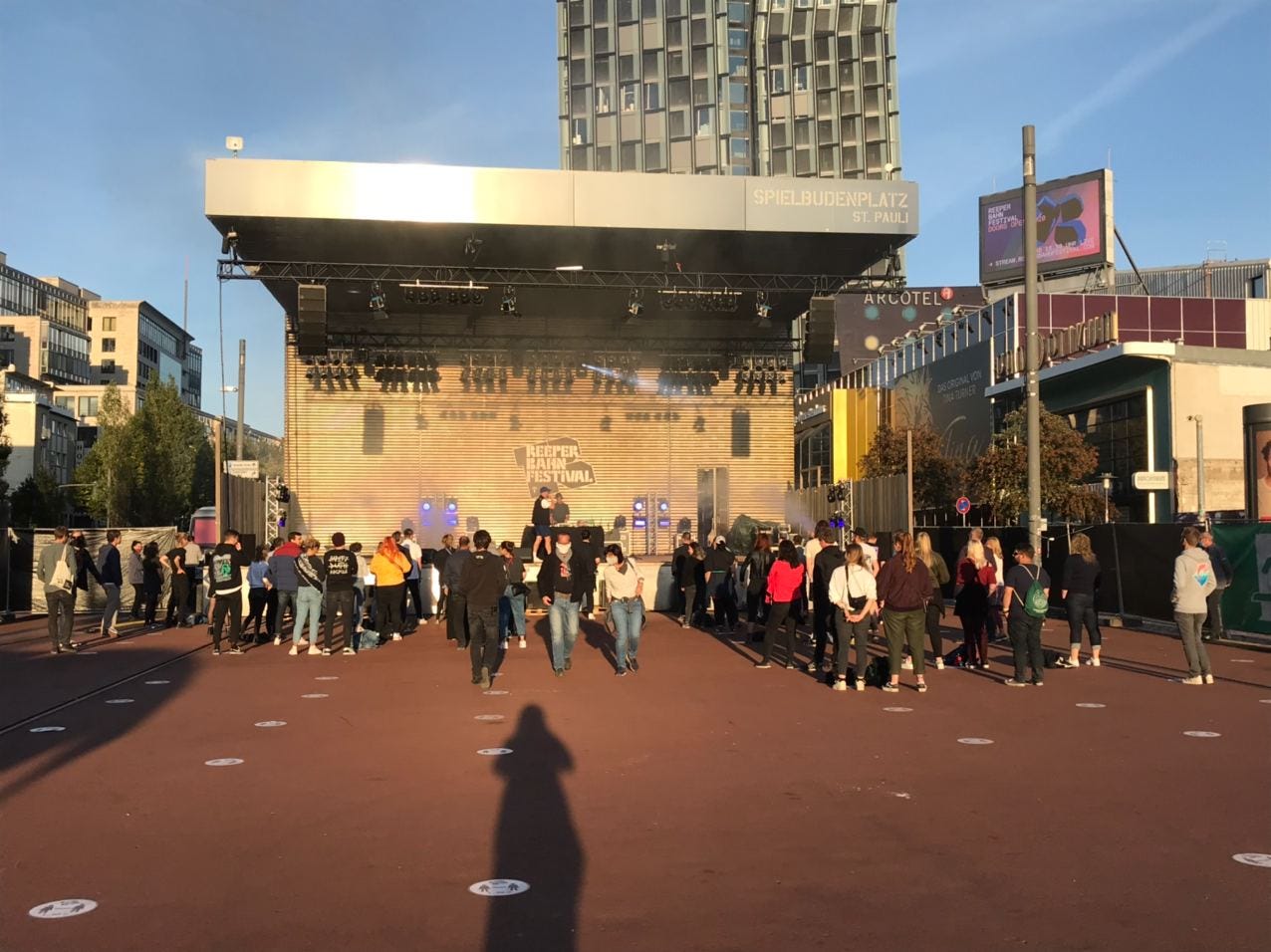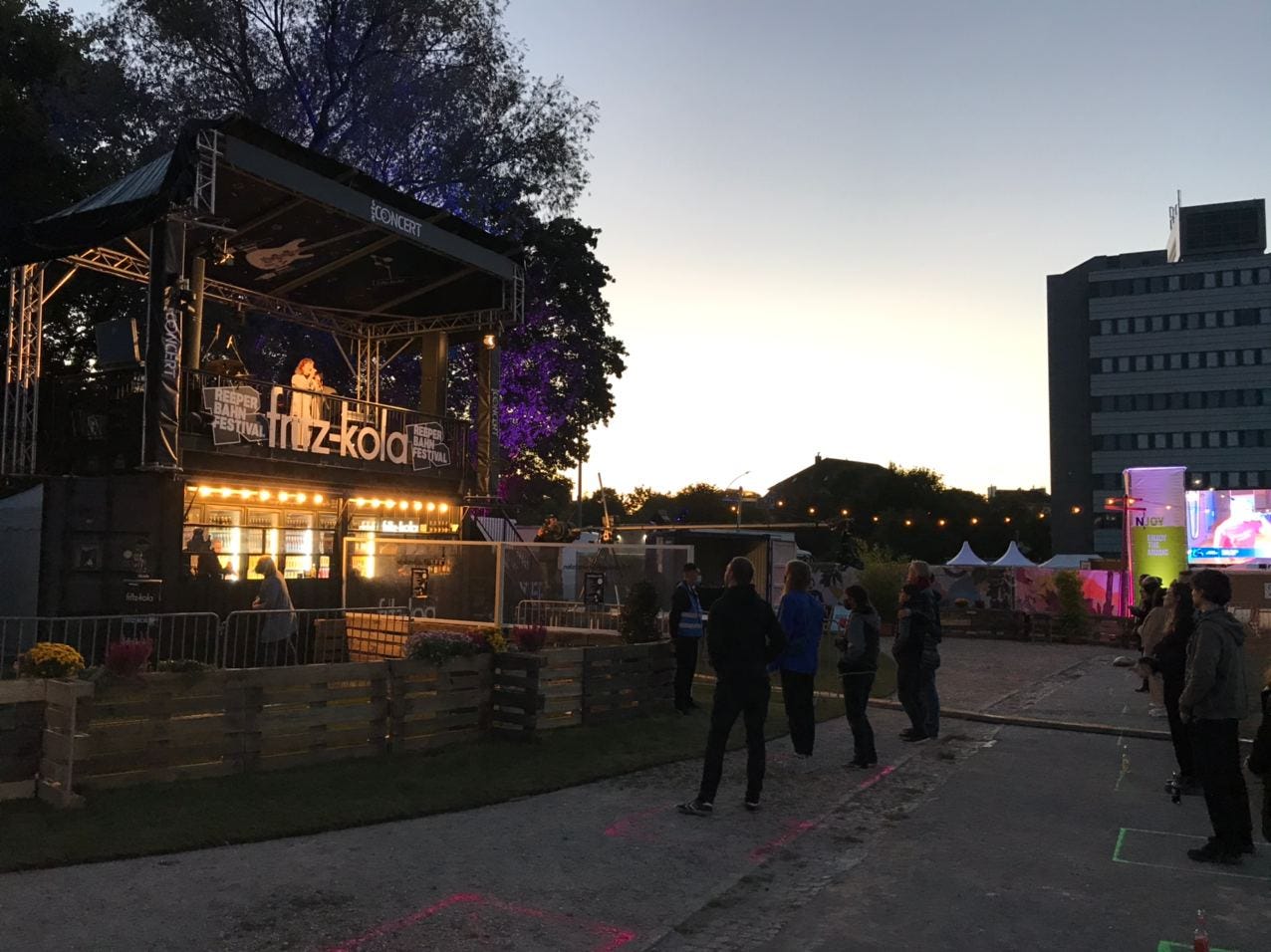 No alcohol
None of the areas I attended sold alcohol. It seems like alcohol was only sold at seated concerts. Makes sense: people will be way more likely to become lax with the regulations in place.
Overall impression
Attendees and artists were so thankful for Reeperbahn Festival putting this on, and it was great to hear amplified music and see professional artists perform - knowing that it's safe.
I hope that we have the pandemic under control by next year, because I can't imagine it's sustainable to run an event like this with such limited capacity 2 years in a row.
To learn more about all the regulations, you can visit Reeperbahn Festival's corona FAQ: https://www.reeperbahnfestival.com/en/info/corona
To see what the gigs were like, you can rewatch some (or all?) of the gigs on their website: https://stream.reeperbahnfestival.com/
---
🚦 The Plague Rave traffic light system
Since the first post-lockdown "plague raves" there has been a discussion around DJ enforcement of safety protocol. Should DJs quit mid-set if the audience is not following the rules? Should they get on the mic? Is this now added to performing artists' responsibility?
An event in Berlin may have found a good solution*. They had a traffic light positioned in front of the audience. Someone responsible for security would be monitoring the audience. If people had their masks off, the light would be switched from green to yellow - giving the audience a warning. If the light would switch to red, the volume to the music would be cut off.
I think it's a great idea for these reasons:
Control & clarity: at all times it's clear to the audience what the status is and what the consequences are if rules aren't followed. It gives an audience a sense of control, rather than any enforced interruptions coming as a surprise.

Shifts responsibility away from performers: the ethical dilemma of playing gigs where people aren't following protocol is an interesting one, but artists shouldn't be put in that position in the first place. This puts the artist in the same boat as the audience: they don't want their set to get interrupted either and it's out of their hands.

Social pressure: if the light shifts to yellow, expect people without masks to get glared at. I'd expect a quick resolution once the light switches to red, unless people are trying to actively troll. In which case you would do the same as what would be done to disruptive people pre-covid: they'd be ejected from the event.
Small improvement (?) I'd try out:
Range cutting at yellow: I'd consider cutting away the mids or highs when the light switches to yellow, which basically will feel like the volume's been lowered and will make any conversation noise on and around the dancefloor really audible (except for the bassy-voiced among us). Might depend a bit on the genre. Just general volume cutting could also work, but may be less noticeable / annoying.
As a sidenote: it reminds me of a demo I saw of a VR event platform years ago (may have been Wave), where if a proportion of the audience would shake virtual champagne bottles, they'd unlock other "in-game" items they could use during the concert.
* Thanks for bringing this to my attention, Síne Furlong (who, by the way, is open to communication & marketing related roles in music: LinkedIn).
---
Quick
---
Next Friday (10am, CET) I'm moderating a panel with European venues Blå (Oslo, Norway), Grga, MKC Skopje (Macedonia), VEGA (Copenhagen Denmark), and the Vilnius Night Alliance (Lithuania) to discuss how music venues are finding ways to stay active and relevant while their stages are empty.
It's part of Liveurope Festival, which will also have a number of great panels from the venue perspective on Thursday. It's all free to stream for European venue professionals, but you have to register. 👈
---
MUSIC x CORONA is composed by Bas Grasmayer and Maarten Walraven.
❤️ musicxtechxfuture.com - musicxgreen.com - linkedin Bas - linkedin Maarten