😷 How to affect resilience in the music industry?
Or, how we should learn to stop worrying and engage our reality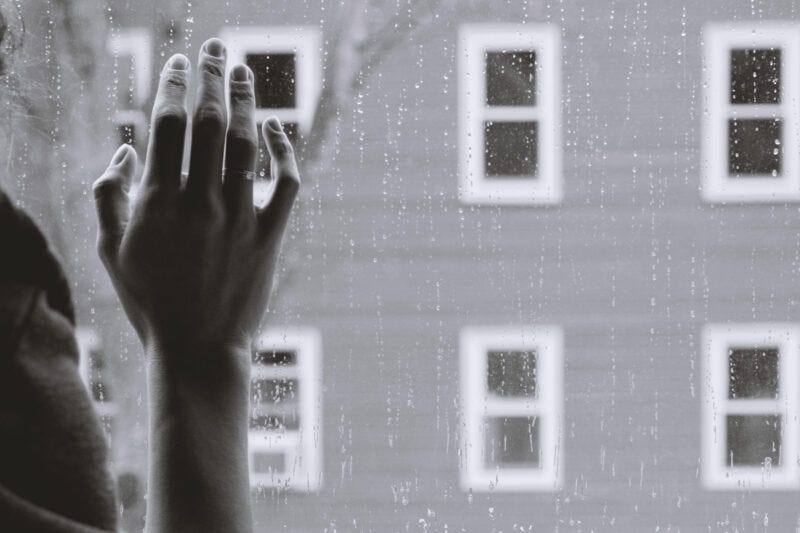 I went to a concert for the first time in about seven months at the Operadagen in Rotterdam. That last gig in February was Moses Boyd in a packed club, this latest one involved an audience of 42 in a church. The music was beautiful, the musicians fantastic, the singing wonderful, but the topic of the piece, called FAR CRIES | Distance No Object, was intense. It centered around the notion of saying goodbye and brought together stories of the pilgrim fathers leaving Rotterdam to head to Plymouth to head to the 'new world' with stories of people who have lost loved ones to Covid-19. It was pretty harrowing, but also cathartic. It made me realise that all those musicians - and actors - performing in this piece showed a resilience that reflects that of those people having said goodbye. They said goodbye to the live industry for months, and will probably have to do again over the course of the pandemic's lifetime. Yet, there they were, firing on all cylinders to make us, their audience, feel the pain and suffering of people we don't even know.
Resilience is something that has grown in stature as something that employees need to keep business strong and adaptable. A recent article in the Harvard Business Review confronts this issue of workplace resilience. The crux of the article is that resilience comes from being confronted with 'unavoidable suffering full in the face.' In other words, we need to know the reality of what we're living in before we can learn to live with it. One example from the study that the author of the HBR article worked on is that those who encountered a higher average number of changes also thought those changes were here to stay.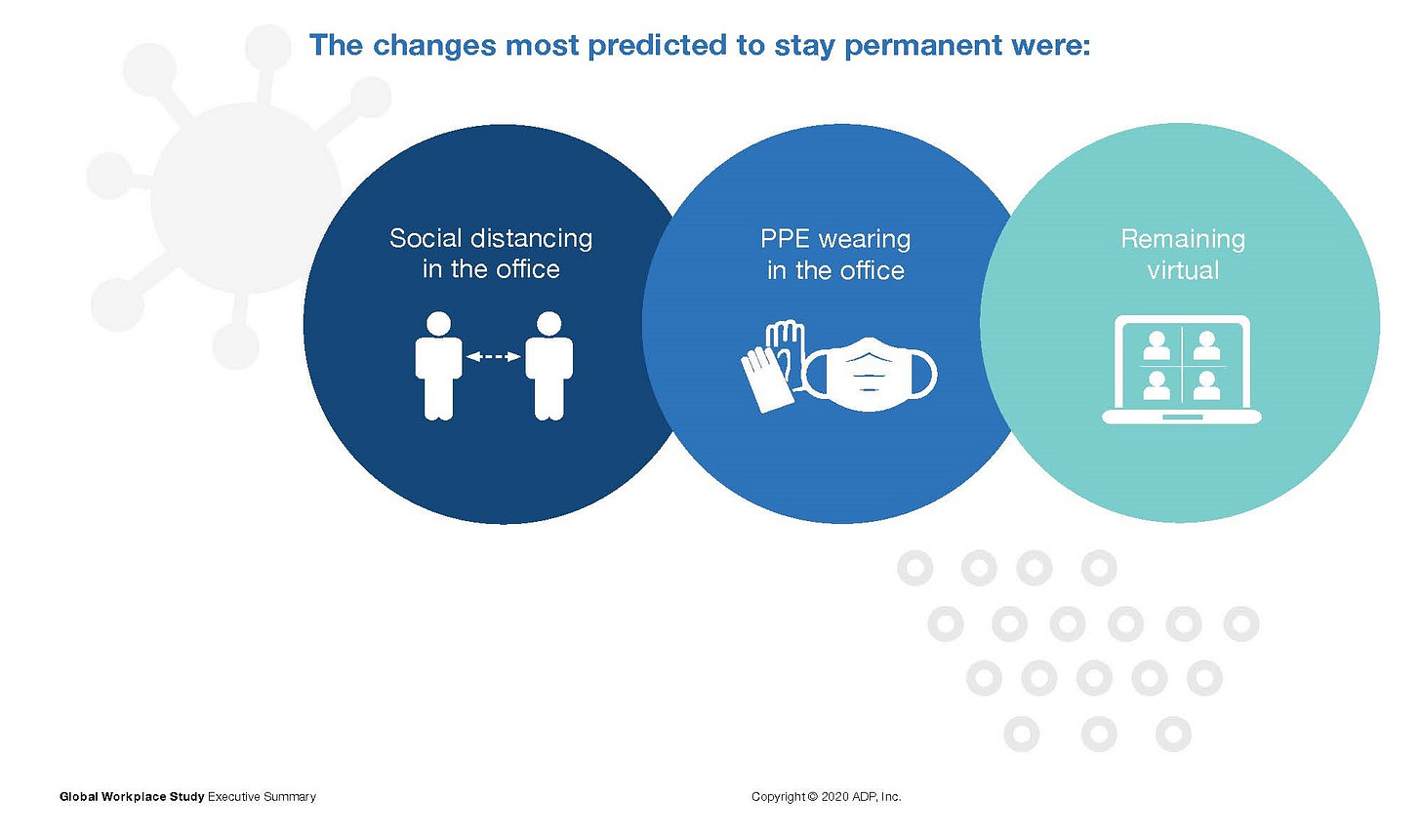 These three things can be lifted from the workplace and placed on top of the live music experience without a moment's hesitation. Should we also start to imagine a world where these things will remain in place for concerts?
Musicians' resilience
Everyone in the music industry is directly confronted by the impact of Covid-19. It doesn't get closer than your bread and butter being swept off the table within a matter of weeks back in March. This has left the industry facing a kind of existential crisis that has no match in history. Of course, the recorded music part of the industry is doing just fine. But the live industry is gone. Moreover, research is showing that many musicians are thinking of leaving the industry.
But hang on, isn't that last part the opposite of resilience? Perhaps, but there's many stories of artists adapting and finding little moments of joy and connection. Instead, let's focus on why musicians are thinking of leaving the industry. The research from Encore shows that finances are a main concern for those considering other jobs outside of the music industry. They either didn't fit the mould for government support or received so little it made no impact on their day-to-day lives. At the same time, they see no quick route back to live performance income.
Resilience, as we've learned, grows from knowing 'the reality of the problem … to help people overcome fear and access their capacity.' People need to know what's coming in order to be able to find a response to it.
Our bottom line situation
We're currently staring into a black hole where two things need to clear up for artists to start confronting their reality: 1) government support should be clarified well into 2021 but will come intermittently. This is mainly important for venues; 2) we need to accept that summer 2021 isn't going to be our focus for a return to pre-pandemic normality in the live industry. This second one is key for musicians.
Where does this leave us?
Moving away from the top-tier pop, rock, and hip-hop artists, MIDiA and Amuse have just released a research paper called 'Pathfinding through a pandemic' that focuses on the independent artist. One element of the research has focused on what artists did during lockdown: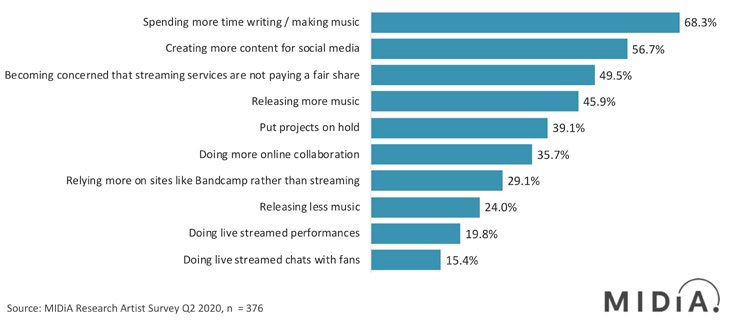 Most of this is positive, showing signs of resilience in stepping up to the moment to turn it, for example, into a moment of creativity. And while many worry about finances, they also did this before the pandemic, due to the majority not making more than $10,000 a year from their music. Moreover, live performance income isn't the main source of income for the independent artists surveyed.
The key take-away, then, from the MIDiA and Amuse research paper is a diversification of revenue streams. Something that should involve live, but can just as easily focus on ticketed livestreams or building a direct-to-fan community, which many aren't tapping into yet: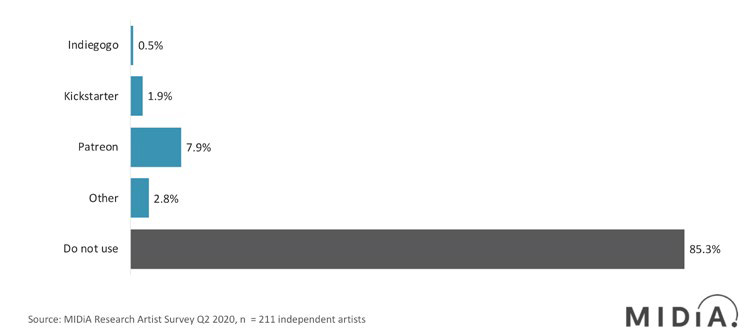 As Bas wrote a few weeks ago, 'just holding out until 2021 was never a great strategy.' Instead, resilience shows itself in knowing our reality and adapting it to new strategies, ones that involve a long hard look in the mirror and deciding what fits as a diversified set of income streams: from session musician work to teaching (both online) and from setting up a direct-to-fan platform to collaborating with a marketeer to grow brand awareness and with it streams and online sales.
---
Quick
Lots to read about royalties today:
Other news:
---
Music
I would love to try and take you to that church in Rotterdam and the closest I can get to that is by sharing one of the songs from the performance, composed by Vanessa Lann and called Memory Demands So Much.
---
MUSIC x CORONA is composed by Bas Grasmayer and Maarten Walraven.
❤️ musicxtechxfuture.com - musicxgreen.com - linkedin Bas - linkedin Maarten