😷 Mental health and well-being: the second wave
How musicians and music industry workers are coping in the pandemic and beyond
We're on a second wave of Covid-19 in many places across the globe, creating a whole range of impacts on our society. The European Central Bank, for example, is urging banks to prioritize viable businesses and focus on their own profitability. This is a change from the spring, when the ECB urged banks to aid lenders to prevent bankruptcies. In a nutshell, the economics at play in a second wave seem to move from one that focuses on aid to one that focuses on terms of viability, i.e. those who have the most chance to weather the storm of the pandemic.
Moving away from the metaview of the economics, there's a wealth of examples of personal impact of the pandemic within the music industry. Back in May I mentioned how Charli XCX and Katy Perry had spoken out about anxiety and depression during lockdown. Now, we're facing the reality of a long period of no tours and adjusting to virtual concerts. How does that impact those working in the music industry?
Personal experiences
Courtney Barnett is one artist who has had mental health issues during the pandemic. After suffering a panic attack, she, in her own words:
"… was like, 'I need to get on top of this, or else.' I mean, it's scary, it's a scary thing."
This resulted in cancelling or postponing a host of performances, including TV and live shows. With counselling, therapy and the assistance of her manager and friends Courtney's been able to get the help she needed and is back on her feet.
That you can't get through mental health issues alone is something that Selena Gomez also reiterated in a recent conversation on Instagram with Dr. Vivek Murthy. She opens up about how she felt lonely and suffered depression in the early stages of lockdown. What helped her cope was talking about it and finding other things, besides music, to focus on.
Shifting attention seems to be a good way of coping for other musicians too. In an article in Complex, six Canadian artists explain what they've been doing to keep their minds off of the fact they can't perform live. Their explanations range from simply accepting time to rest is good to finding more time to write music and plan releases to branching out into new territories. Fafa Khan, for example says:
"I want to push myself while I finally have this extra time to do so, which I didn't have before. Also time where I can finally sit and dedicate to production, painting, merchandise, and design."
It's not just personal though
Outside of the lived experience of musicians, there's an entire business that has fallen flat, with, for example, music venues and clubs in Europe suffering a 70% loss of revenues so far this year. How the extension from musician to industry works was made clear by Bill Kelliher of Mastodon on the Metal Sucks Quarantinecast.
"Mastodon is a business and we have employees. We're all out of work and we had the option to apply for unemployment."
Another example comes from Niall Horan, who's planning a ticketed livestreamed concert with proceeds going to his crew. In speaking with the BBC he said:
"My stage manager is working on a building site currently. A couple of lads are working in Tesco and Sainsbury's. If there's no touring, they don't have a job. They've been left behind."
Others have done the same, such as Orchestral Manoeuvres in the Dark and All Time Low. While this shows a great togetherness between the musicians and their crews, it also lays bare the fact that there's not enough support for crew members coming from other sectors. In the UK, for example, recent announcements about a new job support scheme are worded in such a way that they don't include such business that could officially open but won't be able to do so due to a lack of revenues.
The lack of work in the music industry, especially on the live side, leads to increasing numbers of depression and anxiety. Eric Mtungwazi, Managing Director of UK-based Music Support, spoke to NME:
"The numbers that we've seen in such a short time show that there is a real and concerning, emerging pattern of people reporting anxiety and depression. Around 50 per cent of people are coming to us with anxiety issues and 35 per cent are dealing with depression at a moderate to severe level. There have been a number of people who have talked about suicide in recent months too, that's at the most severe and acute end of the scale. We're also getting increasing calls relating to alcohol and/or substance abuse."
There is, then, a serious issue issue at play here. One that extends itself throughout the music industry and that we need to face head-on. Space must be created to talk about anxieties, support must be provided, and backing given to those who have lost their livelihoods.
So what's next?
Mental health issues extend beyond the current pandemic. Artists especially often have to cope with high levels of stress and pressure. And if the Covid-19 outbreak has taught us anything it's that other workers in the industry live precariously from event to event and paycheck to paycheck. Thankfully, conversations about this are now held out in the open. For example, On 22 October, James Blake speaks to Jennie Morton, an anxiety treatment expert, during Amsterdam Dance Event. 'Morton and Blake will be offering strategies for managing the challenges of a life dominated by artistic creativity, as well as discussing ways to survive the seemingly endless COVID-19 crisis.'
We also want to highlight that MusiCares - the philantropic arm of the Recording Academy in the US - has launched a Health and Wellness Survey. Their 'goal is to learn how different aspects of being a music professional relate to overall well-being and mental health.' It's meant for industry workers with at least 5 years experience, if that's you do consider filling out the survery.
We asked MusiCares what they consider the long-term impact of the current pandemic on the mental health of musicians and others in the music industry. Debbie Carroll, Vice President, Health and Human Services MusiCares, responded:
"This has been one of the most dire crises our community has faced and while our industry proves to be resilient, there is no doubt that the pandemic has affected many livelihoods and will continue to effect the mental well-being of industry professionals. It's our hope that through the MusiCares Wellness in Music survey we can learn directly from our community as to how we can best meet their needs."
---
If you feel the topic of today's newsletter is important, please considering sharing it.
---
Quick
---
I just want to highlight the Patreon that Bas has set up for his various MUSIC x projects. Do consider supporting him in bringing his insights to the world while getting a look at how he works and writes.
---
Music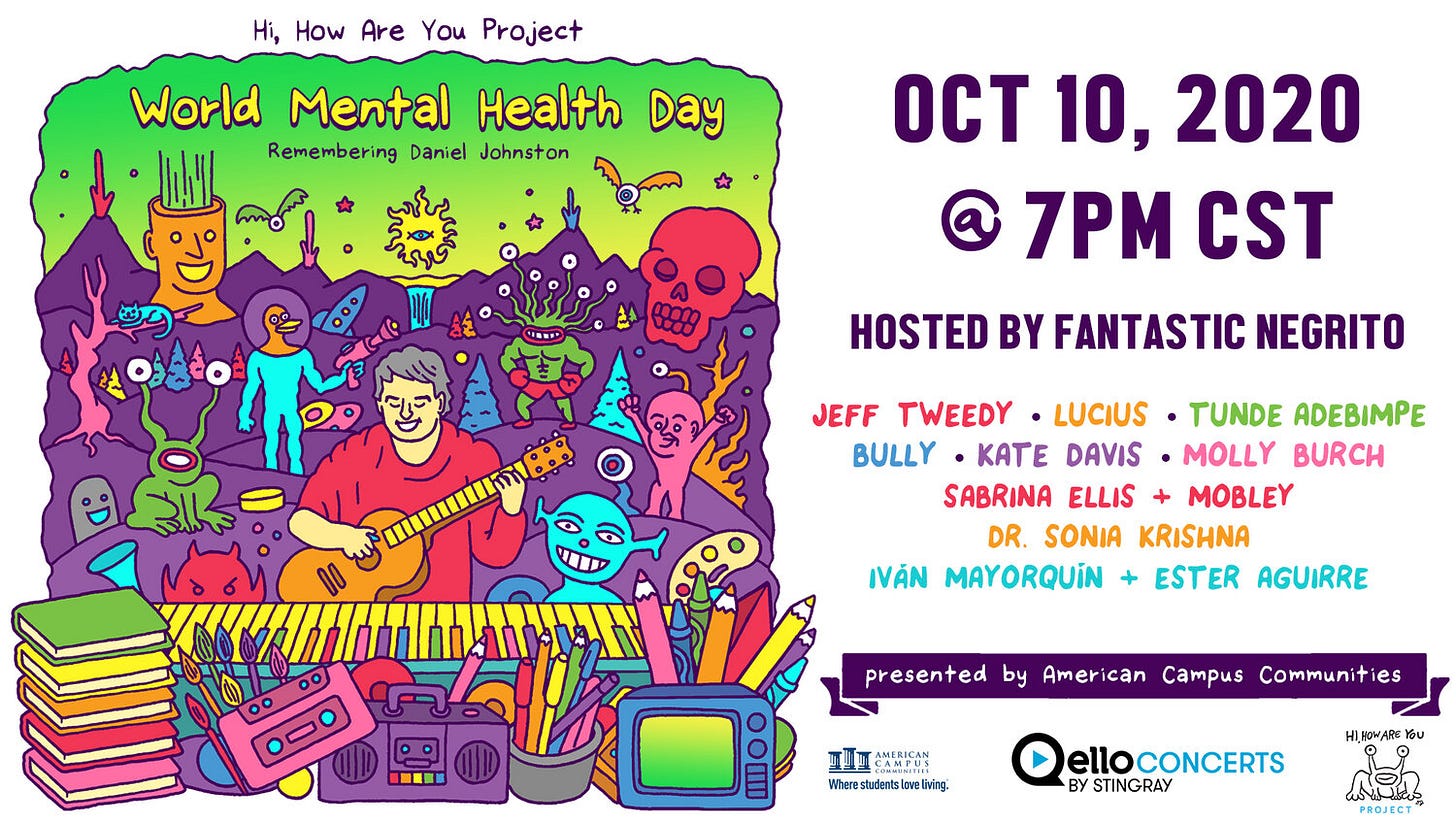 Mental Health has been a bigger topic than usual for the past week or so as it was World Mental Health Day on 10 October. To give extra incentive for discussion the Hi, How Are You project organised a livestream which you can still watch. The project was created in honour of the late Daniel Johnston and the livestream includes, among others, Molly Burch, Tunde Adebimpe, Jeff Tweedy, and Kate Davis playing a mix of original songs and Daniel Johnston covers. The music is fantastic, the cause even greater.
[full disclosure: I work for the company hosting the video of the concert]
---
MUSIC x CORONA is composed by Bas Grasmayer and Maarten Walraven.
❤️ patreon - musicxtechxfuture.com - musicxgreen.com - linkedin Bas - linkedin Maarten