😷 Pandemic past, present & future of livestreaming
Is a new type of 'livestream specialist' artist developing? And a 'livestream-first' fan?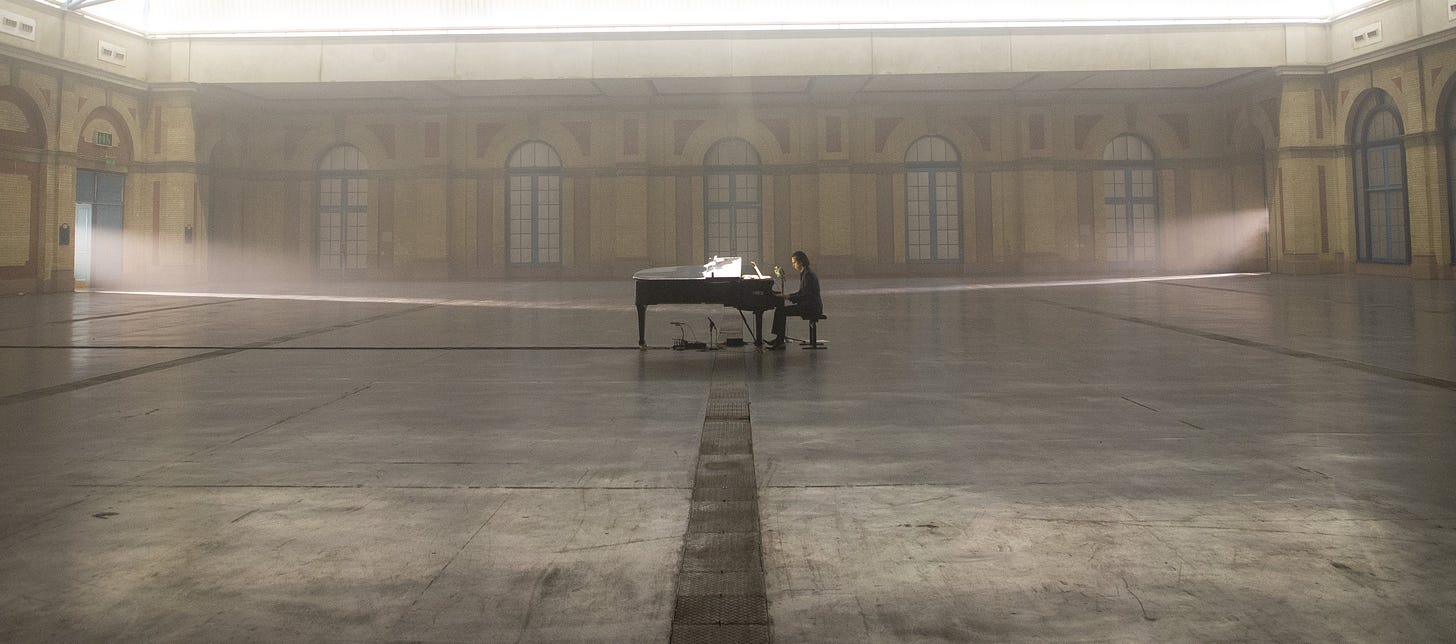 The Covid-19 pandemic has accelerated trends already shaping up in the music industry. A strong example comes from livestreaming. Before March 2020 we already had operas in cinemas, Questlove was already active on Twitch, LiveXLive was already doing tonnes of festival and concert livestreams a year, etc. Lockdown brought all this into a much more wide open space with many artists 'going live' over the internet and festivals and venues hosting online and virtual events. But where has this left us? Is livestreaming a viable economic alternative for artists, festivals, venues? And is it a satisfactory alternative for fans?
Pandemic past: from free to paid
Financially, the live music industry is in tatters. Without events, no tickets are being sold and no money is flowing through the ecosystem. Omdia estimates that 'global live ticket sales will generate just $6.3 billion this year, down hugely from $23.5 billion in 2019.'

As we can see, it'll take a few years before the live music industry will be back to its 2019 levels of revenues. Yet, there's still that $6 billion figure for 2020, which is probably made up mostly of the first few months of this year combined with people holding on to their tickets and small glimpses of positive news like in New Zealand. And, of course, a start in ticketed livestreams, from major pop artists like BTS to more midsize artists like Laura Marling and small acts like Pip Blom - recently mentioned in this newsletter.
Pandemic present: fans' appetite
These examples of tickted livestreams are small steps, perhaps, but necessary to create the ecosystem to support the economics for artists and organisers. Something that is reflected in the way that fans have opened up towards paying for livestreams. In March and April everything was either free, or a fundraiser. This also meant that fans did not get used to giving money to enter a livestream. While at the start of the pandemic 'willingness to pay' was fairly low according to the Nielsen Music 360 Report a few months later that shot up to close to 50% of respondents willing to pay for either a virtual concert ticket or a virtual meet and greet.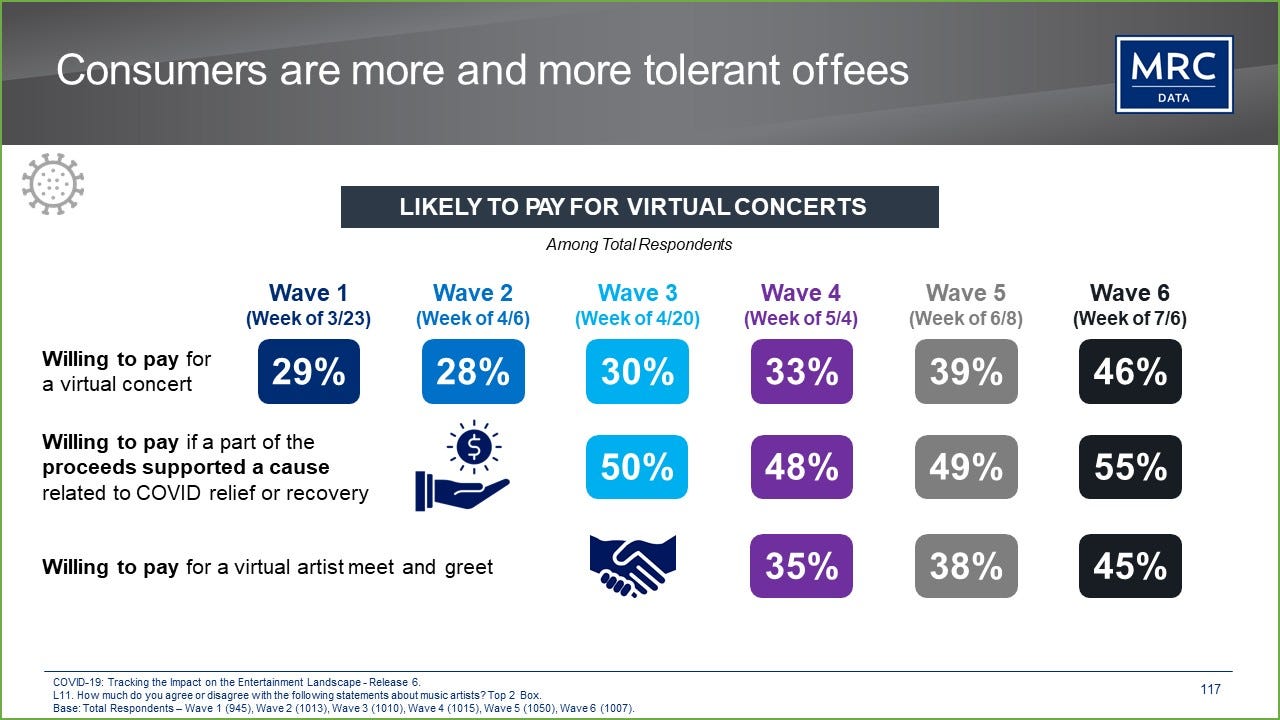 If half of the respondents equate to half of the concert-going and festival-attending public that provides a big slice of the population to draw revenues from. However, another recent consumer Poll, by Omdia, asked: 'When local measures related to COVID-19 allow, how would you prefer to see live musical performances?'

First of all, there's a large chunk of people among these respondents who are not interested in experiencing live music at all. Whether that is due to the risks surrounding Covid-19 or a general sentiment is unclear. Significantly, however, there's a big middleground of respondents who are keen to experience livestreamed events. That number is not quite 50% of the respondents, but it gets close. Taking those two figures together shows that there's currently a high number of music fans who are interested in tuning into livestreams and willing to pay for those experiences.
Pandemic future: monetizing fandom
As we're bracing for 2021 from the midst of a second wave in many places across the globe, it's likely that it'll be a year defined by hybrid approaches. While there will be live events, socially-distanced or otherwise, we'll see livestreaming establishing itself as a viable alternative. But how to make that work for the entire music industry instead of just the major artists and festivals? One way is to bring together small, grassroots venues and independent artists. For example, the new livestreaming platform Mandolin focuses on doing just that. They create livestreams for artists from local stages keeping money flowing through the ecosystem. Moreover, the platform encourages more direct-to-fan monetization options, including meet-and-greets, virtual merch tables, and watch parties.
In a world settled into a pandemic and with a recession around the corner we need to safeguard smaller spaces for artists to flourish and learn their trade. While this was historically always in physical spaces we'll see virtual spaces popping up that will allow musicians to play live to geographically displaced audiences. Moreover, those new acts might become more proficient in livestream performances than in physical live sets on the stages we all know so well. Moreover, there might be a new breed of fan who's engagement with 'live' will be virtual first and foremost.
---
Quick
Speaking of livestreaming, UK-based choir The Sixteen are putting together an innovative livestreaming tour. They're performing in various historical buildings throughout the UK and singing repertoire relevant to the specific space they're in.

For some of the more geeky amongst you, a researcher has sonified the RNA of SARS-CoV-2. There's a scientific paper and a more accessible article, including an audio file with music generated from the sonified RNA, in The Conversation.

There's a big discrepancy in the UK between music venues not being able to open and not being considered for new government funding rounds. Music Week shares a report that shows that '144,000 FTE roles, including self-employed and freelance workers, will have effectively ceased to exist by end of 2020.' The report in full here courtesy of IQ Mag. Or, a quick overview of how bleak the situation is provided by Jack Stephens:
Industry body Pearle (Performing Arts Employers Association League Europe) has put out a call to EU member states to prioritise support for the live performance industry. It's well worth reading the full document which firmly spells out the importance of cultural diversity and the arts in general.

In June we mentioned the Flaming Lips in this newsletter, because even before the pandemic they had a gimmick: performing in a bubble. Back then, it was for a performance with The Late Show. Now, they've played a gig:
Yessss!!! Last night at
@criterionokc
!!! Thank you ❤️❤️❤️❤️❤️❤️❤️❤️❤️❤️❤️❤️
More and more studies are coming out about the spread of aerosols when playing instruments (especially wind instruments) and while singing. Earlier, most research showed that spread of droplets increased in these instances. However, more recently, we're seeing research that shows the opposite to be true for aerosols. For example, new findings from the University of Minnesota shows a series of best practices to reduce risk.
"The degree of aerosol coming out of a wind instrument or a brass instrument is actually less than we thought it might be. Realizing there isn't this enormous difference between breathing and playing the instrument in terms of aerosol production, velocity and spread — that became very reassuring."
Dr. Jon Hallberg
For a future edition of this newsletter, we'll look into all these studies. Do drop us a line if you want to share some information on the topic of aerosol and droplets spreading through the air when playing music.
DJ Mag has published a longread providing an insight into the fine edge between legal and illegal raving in Berlin. It shows how legal club culture can potentially survive the pandemic, while illegal parties allow some subcultures to survive.
---
Music
I've been compiling a playlist on Spotify of accessible modern classical music as a response to people telling me that classical music in the 20th Century became too difficult. Enjoy Jennifer Higdon's Echo Dash, with the excellent Hilary Hahn on violin and Cory Smythe on piano, as one example:
---
MUSIC x CORONA is composed by Bas Grasmayer and Maarten Walraven.
❤️ patreon - musicxtechxfuture.com - musicxgreen.com - linkedin Bas - linkedin Maarten