😷 Putting major concerts back on with the backing of science
A mathematical model that shows which measures should be implemented at major events to minimize the risk of infection with Covid-19
Back in August scientists from the Medical University Halle in Germany held an experiment in the Arena Leipzig to model how Covid-19 would spread in various situations at a major event - a concert. The experiment ran under the name: Project RESTART-19. Today, the results have been made public, but haven't been peer-reviewed yet.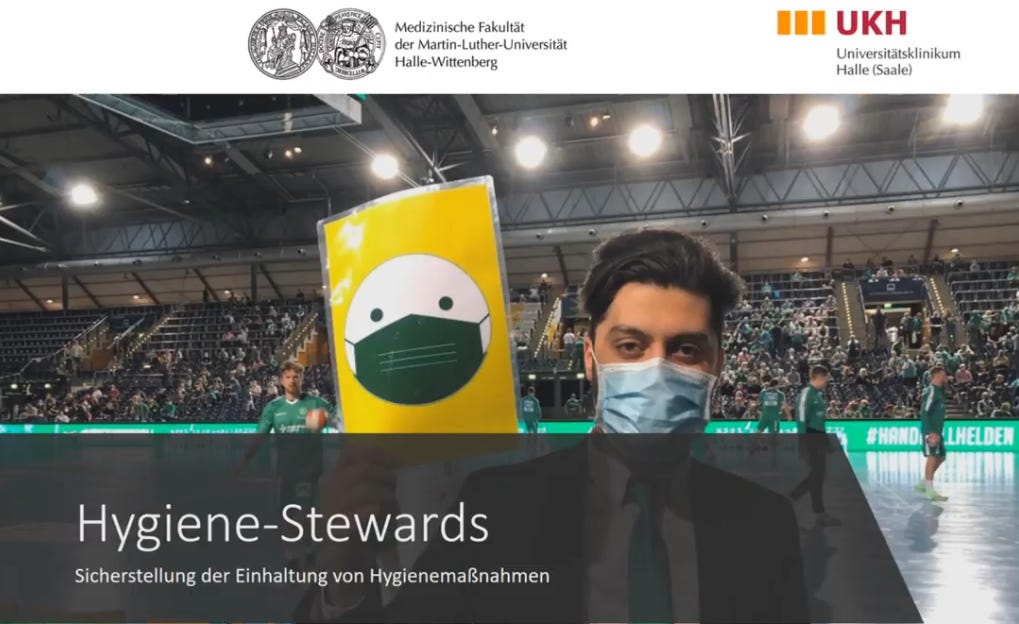 The background
The pandemic has brought with it many unknowns. The scientists involved asked 'what can we do?' And what they can do is to provide a scientific basis for event organisers and politicians and to provide recommendations based on their findings. They do this because they want people to be able to make decisions based on facts and with transparency: do what you know, not what you believe. Knowledge of the risks allows people to adapt and focus on the opportunities.
The experiment
The researchers focused on three scenarios:
pre-pandemic full concert with 8000 attendees in the arena;

various measures in place such as 50% attendees, seating in quadrants (chess-board seating);

more measures in place with people only allowed to sit in pairs and observing a 1.5m distance (5ft).
All attendees wore a contact tracer that clocked 3 different types of contact: 1) 3 seconds; 2) 5mins; 3) 15mins.
The results show that the seating plan heavily impacts the number of contact moments, especially those that have a longer duration. What's more, in scenario 3 the only person that attendees had a 15min contact with was the one they were sitting next to. Outside of the seating, contact moments - obviously - increased during entrance, intermission, and while leaving the arena.
Besides the movement of people and subsequent contact moments, the researchers also focused on the spread of aerosols. The importance of good systems to bring fresh air into the arena cannot be overstated. Using computer modelling the researchers have shown how with a good air purification system the risk of the spread can be reduced by sucking the aerosols up towards the ceiling and out of the arena. However, with a poor ventilation system the risk of contact with aerosols from infectious persons grew to a third of the audience. The researchers assumed 24 infected persons with the 4000 capacity scenario 2.
After the concert, the attendees were given a questionnaire and most were fine with wearing a mask with only 12% expressing displeasure. This followed the next statistic where 70% of attendees said they would wear a mask.
When looking at the risk impact of a large scale event on the wider society the researchers used an incidence rate of 10, 50, and 100 per 100,000. In all cases the impact of wearing a mask was strong, although much bigger in situations with poor ventilation and in the higher incidence rate situations. At the lowest incidence rate, with good ventilation and with mask-wearing the wider implication of scenario 1 and 2 appear negligible in society at large.
Recommendations
No full capacity concerts as any hygiene concept has to reduce the number of attendees.

No standing concerts, only seated concerts as this provides fixed distance and contacts.

More entry points and staggered entry to reduce contact moments.

Mask-wearing should be mandatory in all public places. Potentially allow people to remove masks when seated, especially in scenario 3.

Only allow people to consume drinks (and food) while seated.

Adequate ventilation systems are needed. First, a standard must be provided to all venues and promoters. Second, there must be an investment programme from government bodies to help implement appropriate ventilation systems.

With an incidence rate lower than 50 per 100,000 per week, the researchers recommend scenario 2, allowing 250 people to enter per entry point per hour.

With an incidence rate higher than 50 per 100,000 per week, the researchers recommend scenario 3, allowing 250 people per entry point only.

Final point, enlist the help of hygiene stewards to help people understand what they need to do when.
What's next?
Now we have a scientific basis to organise concerts, the next step is to bring governments on board to support these findings. Similarly, we'll need to develop concepts that will work within the suggested scenarios. We'll need to get creative, because so far, all evidence has pointed to events running at 50% capacity or less to not be financially viable for anyone involved. It would also be great if we can take this research and apply it to smaller scale events. Hygiene concepts can be set up, air ventilation prioritised, and mask-wearing can be made mandatory.
---
New to MUSIC x CORONA? Get updates like these in your inbox, for free, twice a week.
---
Quick
---
Music
I've been enjoying Sam Amidon's new record a lot. It's his sixth album, but the first to be self-titled. For me, this shows how he's grown into his own with this album. It's still quintessentially Sam Amidon with the folky songs, the banjo, etc. But the production is much more airy providing more space for him and the song.
---
Next week: special US election edition
Keep your eyes peeled for a special edition next Tuesday, as we'll look at this newsletter's topic in the context of the US elections. It will also be the first time Bas and I actually co-write a newsletter edition - we normally just take turns.
Since it will be a bit more work editorially, Bas will be able to give people on the MUSIC x Patreon a preview ahead of time.
---
MUSIC x CORONA is composed by Bas Grasmayer and Maarten Walraven.
❤️ patreon - musicxtechxfuture.com - musicxgreen.com - linkedin Bas - linkedin Maarten