😷 This soon-to-launch Minecraft club changed my mind about virtual raves
An exclusive preview of a Minecraft venue based on a closed down Berlin night club called Griessmuehle
A look at the user experience behind virtual club design.
Early on in the lockdown I threw a few virtual raves, but decided they're not for me. Simply put: I thought they're not engaging enough to compete with all the other things I could be doing. I hear you: they have an important role. I agree with that, but I think they typically do poorly in terms of fulfilling that role.
4 key roles for virtual raves:
A place for a scene to connect.

A place to discover new music & talent.

A place to for artist-fan connection.

A place for entertainment.
With very few exceptions, I feel these roles are fulfilled better in other places. Scenes connect on Instagram and to a lesser extent Soundcloud nowadays. These platforms are also excellent ways to discover new underground music, bootlegs, and remixes that you won't find on Spotify or other large streaming services.
As for entertainment… There are productions with dozens of millions of dollars in funding at our fingertips through video streaming platforms, television, video games, etc. And personally I enjoy the latter, because I can play games (with friends) while listening to new music. When it's actually convenient for me.
It's like virtual raves are fun and engaging for the organizers and performers, but much less so for the audiences.
So if you know me from a nightlife context: that's why you're not seeing me at many livestreams and virtual raves. But last week's look at a new Minecraft club has made me changed my mind.
Inside LiveJar, a virtual club based on a closed real-life venue
Minecraft raves are not new. Perhaps the most prominent organizer that's still active, Club Matryoshka, started throwing them in the summer of 2019. Around the same time, a Reddit user named throwawayforlewdstuff built a Minecraft version of legendary and notoriously hard-to-get-into Berlin techno club Berghain. This same person, also known as gibier_, has now created a new Minecraft version of another Berlin club together with a group of other artists.
The Minecraft venue is based on Griessmuehle. Which was easier to get into than Berghain, but that difficulty is now inversed. Berghain now functions as an art gallery due to the pandemic, so if you have a ticket, you're in. However Griessmuehle was forced from the location that the Minecraft venue is based on - you'll never be able to enter it again. So no matter how well we tackle the damage done to nightlife by extended shutdowns, the reality of real estate development will continue to have an impact on nightlife.
Last week (Sept 30), LiveJar had a beta run to test the server and collect feedback. What follows is a rundown of the experience. I'll do my best not to give too much away, because I think they've captured an important element of good nightlife venues well: photos, videos and stories won't do it justice - you have to go experience it for yourself.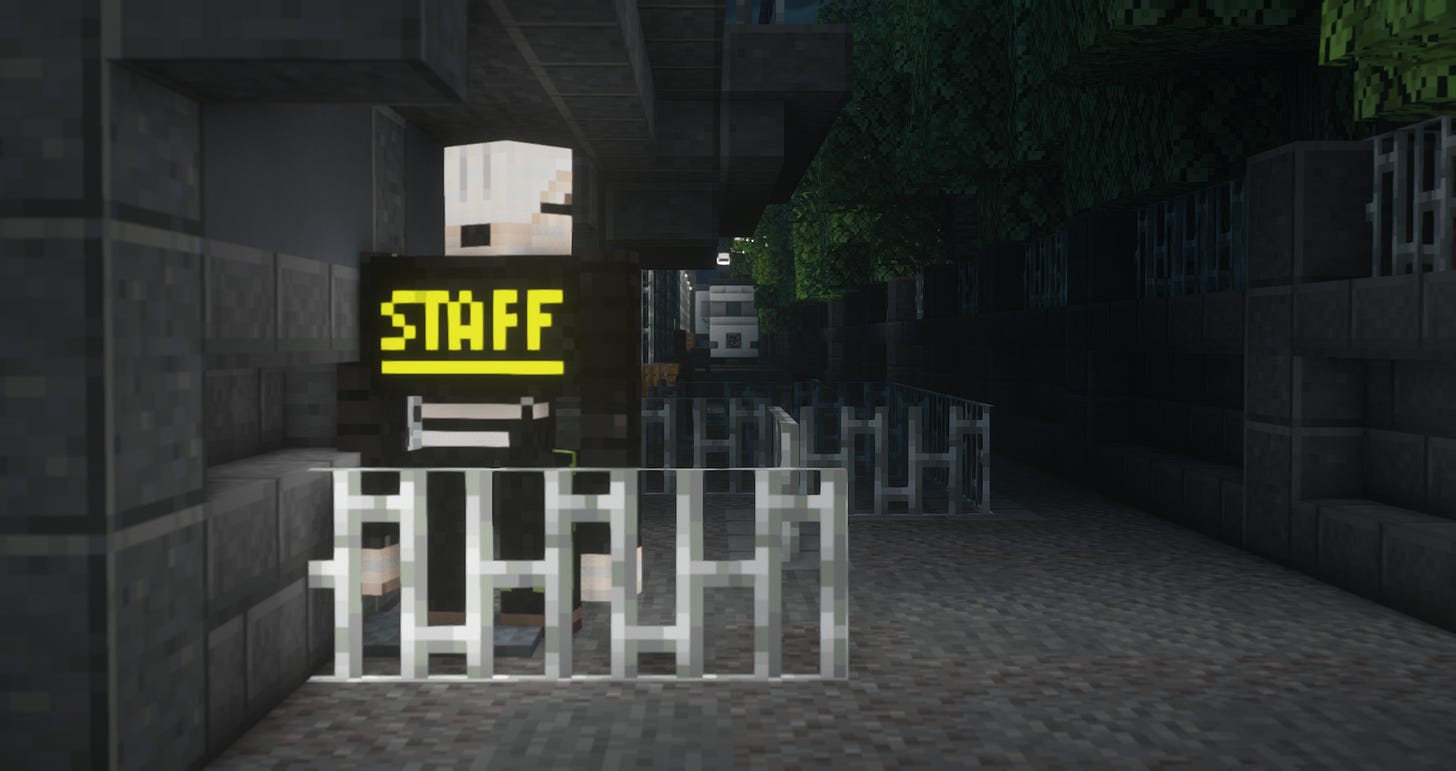 When you join the server you're spawned outside Griessmuehle (or LiveJar). As you walk up to the door you'll see a large and rather unfriendly looking bouncer. You're also greeted by the ambient sound familiar to anyone who's ever queued outside a club: muffled techno beats. Sitting comfortably at home for half a year, I'd actually forgotten about that rush just before entering. A mix of anxiety and enthusiasm. I had not realized how much I've missed it.
They run the audio through a plug-in called OpenAudioMc, which allows Minecraft server admins to map music to certain areas. When joining the servers as a listener, the plug-in runs in a browser window you keep open in the background. As you move through the map, the music will play through the browser and will change when you switch rooms.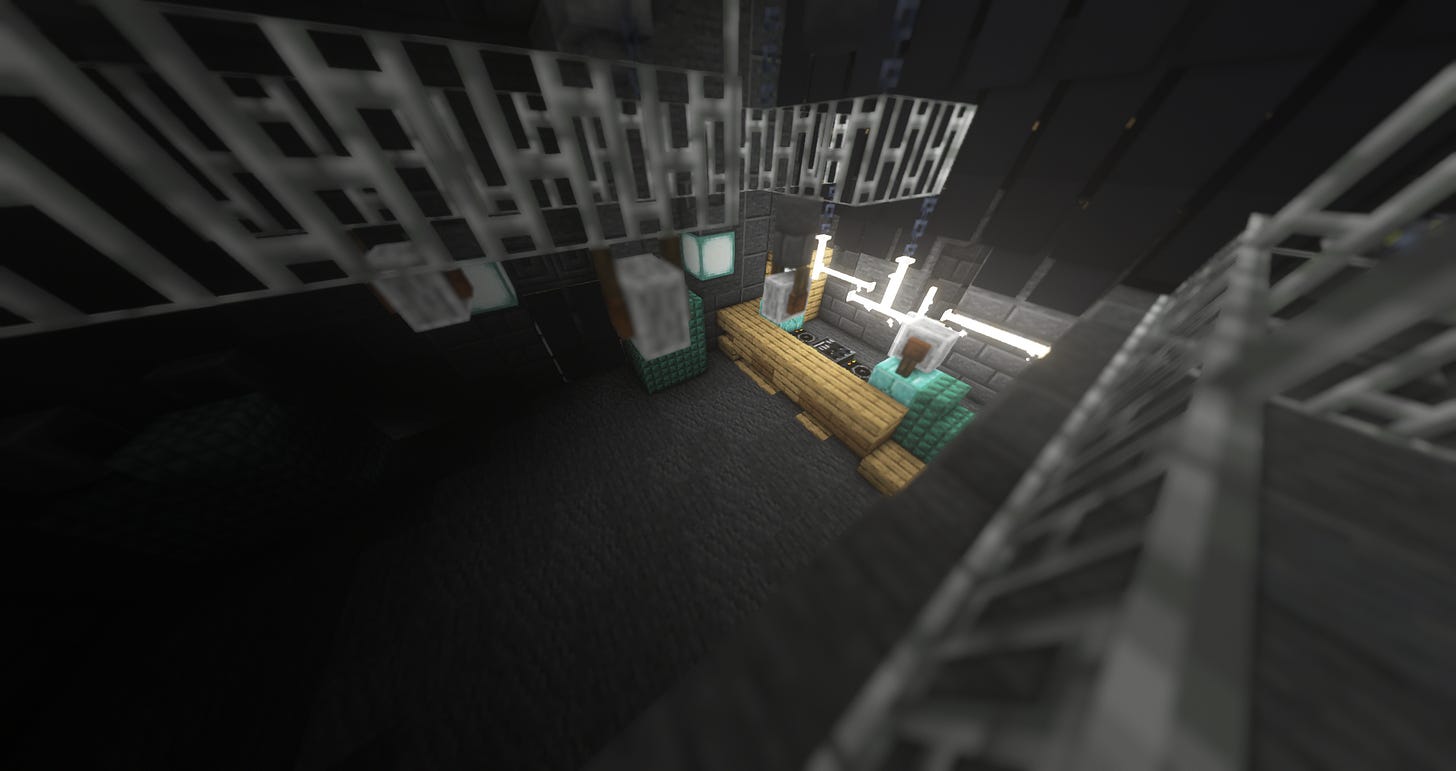 Entering the venue was particularly exciting, because of the familiarity of the layout and how well the team captured certain details. Most importantly, it was fun to just wander around and see what's going on in familiar places, less familiar places that I actually never spent much time in, and unfamiliar places that the artists added, like extra rooms and floors and certain objects.
A good club will draw you in and make you forget about the world outside. It puts you in a place where time is frozen. A place where you can experience, explore, and interact. I think I spent a good hour exploring the map and I still don't feel like I've seen everything. Since it was a beta, there were not many people around, so it was a bit like showing up at a party way too early. And a rave is not a rave without ravers. Minecraft allows people to customize their avatars, so I'm looking forward to seeing all these areas populated with people in creative costumes.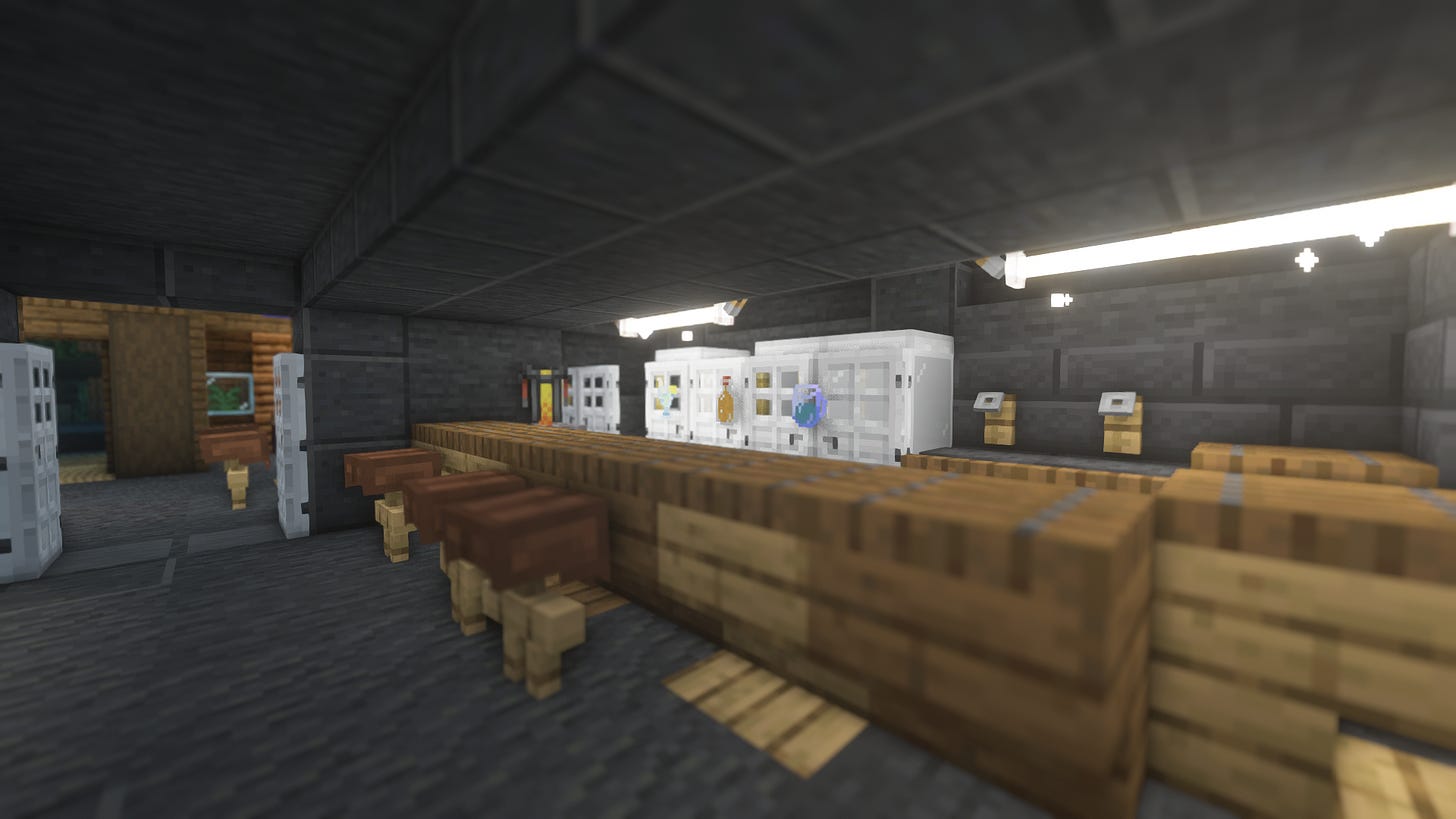 To make sure people move around the map, the makers have hidden drinks around the map like easter eggs. There are 3 types and each of them has its own effect on the player upon consumption. I won't spoil what they are. There are also bars in the venue, which allows people to attain these drinks in exchange for donations (powered by tebex.io) that the organizers use to cover their costs, pay DJs, and donate to charity.
The venue's staff have special controls in their inventory, which allows them to play with the lighting and smoke machine in certain rooms.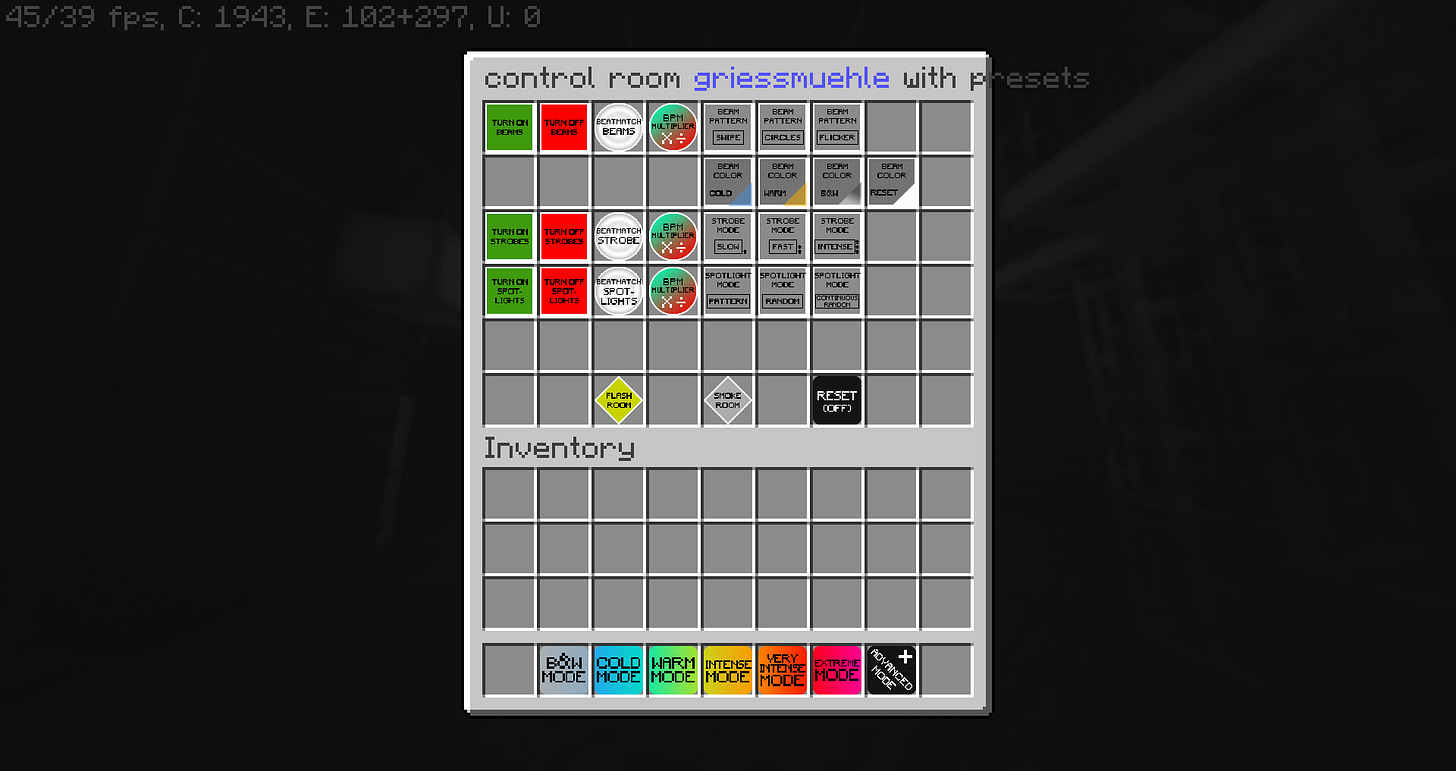 Some of these effects are intense. Especially if you're under the influence of one of the virtual beverages. It can be really disorienting. You will definitely walk into a wall at some point. At first this bothered me, but it also echoes the experience of Berlin's early techno clubs (well-documented in the WE CALL IT TECHNO! documentary on YouTube). Remember being on the way from the dancefloor to the bar (or vice versa) when the smoke machine fills up the room and you just decide to stay where you are for a moment until the smoke clears up? It's part of the experience, it's part of the unknown of these nights that make them so exciting and the admins behind LiveJar have managed to recreate this well.
Currently, the creators of the server are preparing for launch. They're looking for artists and organizers who want to play on their servers and bring their audiences in. You can get in touch with them (kelit, devBowman, gibier_ aka throwawayforlewdstuf) on their Discord server.
They're also looking for additional staff members to help with the scenography and an experienced Minecraft server admin in order to scale the experience to more users.
Better than real life?
I feel virtual events have a chance of doing things that you can't do in real life. Those things are necessary in order to fulfill the criteria outlined in the bullet points at the start of this article. I previously wrote an article about 8 'generatives' that can give virtual events an edge over real life events, so let's see how LiveJar stacks up:
Magical powers: ✅. Whether it's the drinks or falling from high distances and living to tell the tale: you're definitely something more than human on the server.

Interactivity: ✅. An important aspect of the interactivity for me was the exploration aspect as well as trying out the various drinks in various places and seeing what would happen. I set a goal to go out to find a drink and come back to the dancefloor, wait for the wildest smoke and light effects, and then take a drink and see what it's like (woOoAaoahH). I didn't actually consider exploration as part of interactivity when I wrote my original article, but it's definitely an important element.

Context synergy: 🔲. This box will be ticked as soon as they start populating the server with artists. Certain artists and scenes definitely make sense in the context of Minecraft and / or Griessmuehle.

Artist proximity: 🔲. Even though sets have to be pre-recorded due to technical limitations, the organizers expect the DJs to be present for the rave. Even with a handful of people on the server during the beta, there was a lively chat, so I assume this box will be ticked as soon as they launch.

Fan community or scene networking: 🔲. Similar to the previous bullet point. This actually lends itself really well to it. Especially since the map is large with lots of different areas. It's possible to change the server-wide chat into more localized chats (e.g. you only 'hear' people in your area of the map). This makes it possible to have multiple dancefloors and areas with various adjacent scenes hanging out. The admins hadn't set up the server this way during the beta, but mentioned it had been on their minds.

Just one caveat: the requirement to purchase Minecraft could be a barrier to bringing a scene onto the server. Will people who have already purchased a console or mobile version of Minecraft also purchase the PC version?

Global proximity: ✅. It seemed like most people on the server were French (despite 95% of the conversations happening in English). So yes, definitely a good way to connect scenes across borders and get music fans from various cities into the same room and exposed to each other (an aspect normally reserved for touring DJs and traveling fans).

A role to play for the viewer: ✅. Like I wrote above: this will be so exciting with more people on there, with customized avatars, bringing increased interactivity and life to the various areas of the map.

FOMO: Fear Of Missing Out: ❓. You tell me. Do you think you'd attend the launch event?
One more time in case you skipped over it above: you can stay up to date or get in touch with LiveJar by joining their Discord server at https://discord.gg/DXvrx3W.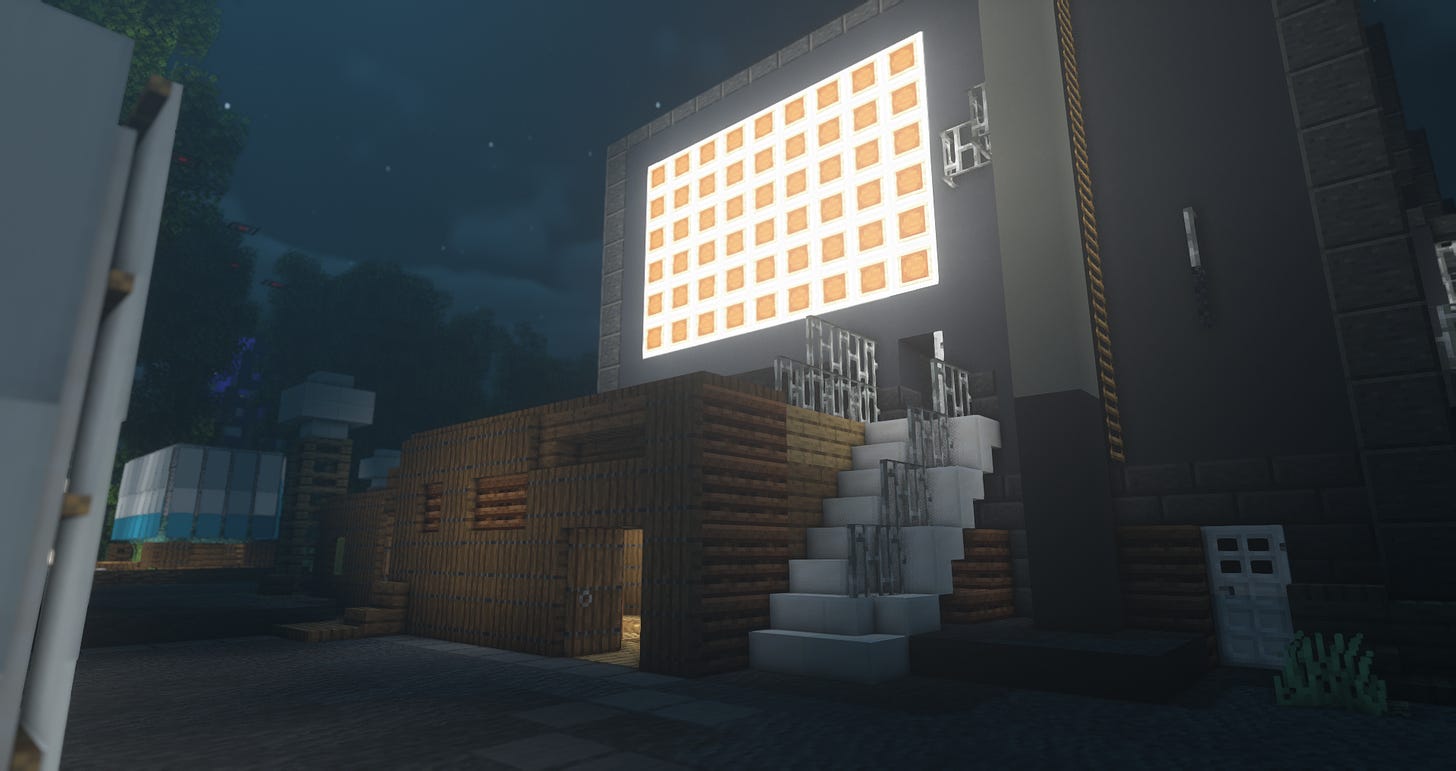 As for Griessmuehle: they've since found a new location to reopen.
---
How music venues are finding ways to stay relevant while their stages are empty
My panel from Liveurope Festival with music venues from Scandinavia, the Baltics, and the Balkans is now available on YouTube. Thanks again to all the panelists and Liveurope for having me!
All other panel videos and concerts are available for free on the Liveurope Festival site with discussions about putting pressure on policy-makers, rebuilding the European ecosystem and more.
---
Quick
A roundup of news and perspectives on the pandemic and the music industry.
"It does the opposite of protecting people by pushing them onto the street at the same time. They are going from being safe inside venues with staggered closing times to unsafe on overcrowded streets and overloaded public transport." Jeremy Joseph, owner of London night club G-A-Y
"It's bullsh–, honestly, for anyone who knows that their mortgage is good for the next year, or even can afford a mortgage, let alone rent, to be saying that they need to let people go so they can keep their lifestyle." - Scooter Braun
Partying Through a Pandemic (Mixmag). A variety of perspectives of organizers who put on gigs and DJs who decided not to play. Unfortunately the DJs Mixmag reached out to that did play events ( Jamie Jones, Amelie Lens, Charlotte de Witte, Michael Bibi, Nina Kraviz, Tale Of Us, Adam Beyer and VTSS ) didn't want to comment for the piece.

Mark Mulligan: So, how can artists and songwriters can get paid? (LinkedIn). Mulligan highlights the areas in which he sees financial opportunity right now with the aim to get artists to start thinking laterally about their income gaps.

This thread by former Boiler Room programmer and host Michail Stangl:
Correction: 2 Pollstar links at the bottom of this section were missing from last Thursday's edition. We've now updated the website version, which you can access by clicking here.
---
Patreon: coming soon
I'm finishing up everything in order to launch a Patreon for MUSIC x CORONA and all the other MUSIC x projects. I want these projects to be as open as possible, so first I'll be creating a supporter tier where you can help cover my costs.
The moment it goes up, I'll announce it on Twitter. You can read more about the thoughts behind it here and get some tips about other great music business-related Patreons you can support today:
---
Music
Long shot: if anyone on the list runs a biergarten (or a business with a good sense of humour) and wants to sponsor a hard dance mix I'm working on, get in touch. The mix, titled Yodelcore, will bring together polka, yodeling, and hardcore (Spotify playlist). Perfect to insert in your Oktoberfest campaigns. And yes, it started out as a joke, but I figured out it actually can be done, so now I want to do it.
---
MUSIC x CORONA is composed by Bas Grasmayer and Maarten Walraven.
❤️ musicxtechxfuture.com - musicxgreen.com - linkedin Bas - linkedin Maarten